The Carnot-Swimming pool in Paris is the first large-scale realizalion of this type, permitting of an open-air pool in a few minutes, thus converting it into an ail-weather installation.
David d'Angers, Paris
Other swimming pools, open year-round, even during severe cold-winter periods, already exist in Moscow and Budapest. However, access to these heated pools is through a screen and, furthermore, visibility is practically nil on account of the steam.
The Carnot swimming-pool, Paris 12
The Carnot swimming pool was planned to accommodate 1,700 people (with a possible capacity of 3,000 per day) and is essentially destined to the public at large and to the training of school children. It consists of three basins : a covered swimming pool (50 m by 15 m), a diving pool and a wading pool. Facing the sunning tiers of the large pool is a building whose ground floor is reserved for reception and administrative services, while the basement houses the technical equipment : heating system, water treatment equipment and locker-room facilities.
Lyon
For the design of the collapsible roof over the large pool and poolside areas, Roger Taillibert resorted to a concept he had just experimented in Cannes : a parasol-type structure unfolding and folding up rapidly to protect the ''théâtre de verdure'' at the Palm Beach's. The principale of such a structure consists in a mast stretching a series of cables localed in space, on to which moves a light awning unfolding and folding-up at will.
Reims
The surface to be covered on Boulevard Carnot was 2,000 square meters. The 27-mener-high mast was placed on the terrace of the reception building, so as to free the pool and poolside areas of a major obstruction. The mast made of steel pipes is anchored into the ground and stayed by three cables.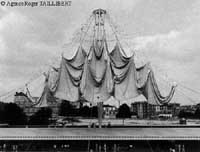 Previous